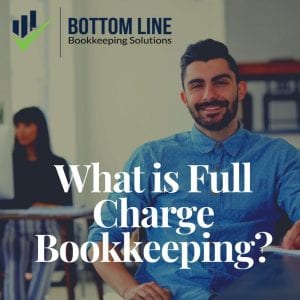 Full-charge bookkeeping services are very similar to the benefits a standard bookkeeper would perform. However, they provide more accounting services in addition to traditional bookkeeping. Your business may have one or more bookkeepers in addition to a full-charge bookkeeper.
In smaller companies, the full charge bookkeeping role is the only bookkeeping role in the company, and this position handles all financial aspects of the company.
This roll reports to upper management or the company's president or owner in a medium to large-sized company. They may supervise or manage other bookkeepers or accounting clerks. 
A Full charge bookkeeper manages the company's complete accounting duties, including receivables, expenses, invoicing, banking, payroll, collections, banking responsibilities, and even taxes. In addition to regular day-to-day financial bookkeeping duties. However, some tasks may trickle down to the standard bookkeepers or bookkeepers or accounting clerks.
The full charge bookkeeper must have superior knowledge of bookkeeping and excellent accounting skills. They are the ones that take the numbers and make them mean something.
Click To Tweet
Project management is another skill that goes with full charge bookkeeping.
Think about it this way… you have probably gone to see a doctor and maybe your appointment started with you seeing a nurse. The nurse can ask basic questions, can't give advice or write a prescription or make a decision about which medical process you need. Next, you may see a Nurse Practitioner. They can diagnose, prescribe medications, and counsel patients. However, they must work under a doctor's orders.
We can look at bookkeeping in the same way. A bookkeeper will do basic data entry, account reconciliation, etc. As stated above a full-charge bookkeeper does so much more.
What does all of this mean for your business?
According to Salary.com an in-house full-charge bookkeeper will run on average $44,000 plus benefits. To fill this position with an outsourced professional will run you between $500 and $2500 per month with no additional benefits. That is a significant savings.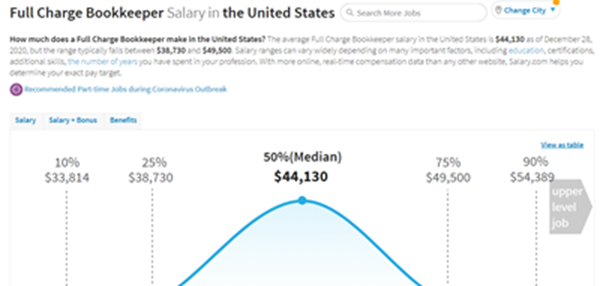 Smaller and newer companies can start with someone in a traditional bookkeeper role. However, as the business grows, there will be more necessity for having someone in a full charge bookkeeping role. As with the conventional bookkeeping role, full-charge bookkeeping can also be outsourced or virtual.
We also wrote a post called 3 Reasons Small Business Owners Should Hire a Bookkeeper – you might also find it interesting.
Another thing to consider when using an outsourced bookkeeping agency, they may be able to supply a team for your financial needs, including full-charge bookkeeping and the more traditional bookkeeping roles.
Find Out if a Full-Charge Bookkeeper is Right For Your Business