Your Google My Business listing is one of the most important pages for your business on the Internet. Considering that the Google search engine is the most used search platform on the web, it is likely that your business is returned in the results of many of those searches. 
Your Google My Business listing adds more value to the search result than just a simple website or blog post result. If you don't have your listing created, be sure to get that done immediately. It will become one of your favorite SEO strategies. And it's free!
A Google My Business Listing offers lots of value to you as a business owner. 
After you create your listing and add all of the necessary information to your profile, you can configure some of the features available. Some of the first features you should set up include posts, reviews, messaging, and appointment booking.
Optimize your Google My Business
Make sure you include a verbose description of your business. Include the most crucial information within the first 250 characters out of the 750 allowed. The first 250 characters are immediately visible before the user has to take action to read the rest. Do not make the description spammy as Google does review descriptions before they will appear on your listing. Make sure you state the benefits of your business and what makes your business unique.
Utilizing Google Posts
Posts are similar to social media posts or maybe even small blog posts. They show up as a local search result. You can use Google Posts to share your services, special events, etc. As a bonus, Google Posts also show up with your listing in the local business map finder.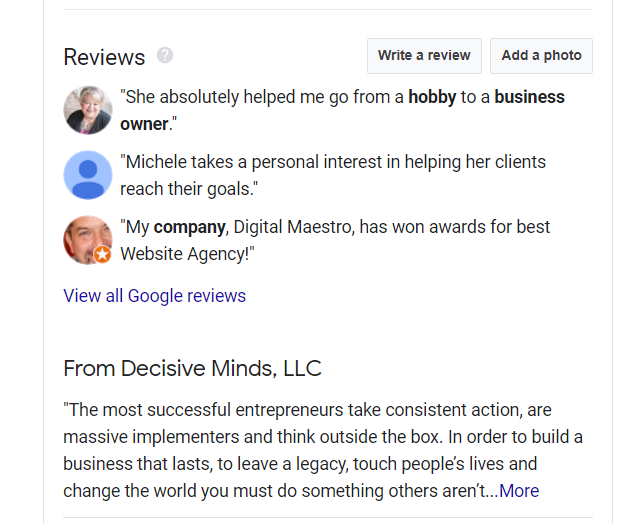 Customer Reviews
One of the best parts of your Google My Business listing is your customers' ability to leave reviews. When your listing shows in a search result, reviews are among the first things potential new customers will see—the more reviews on your listing, the more chance that that new customer will call you. You can even respond to reviews, good or bad. 
Appointment Booking
Another significant aspect of your Google My Business listing is the ability to book appointments. You can allow customers to book an appointment right from the Google search result. This feature works with many different booking platforms. See if Google supports the one you are using.
Easy Customer Interaction
Lastly, users can message your business with any questions they may have. Imagine a customer finding your business via a Google search and sending you a message to ask about your services. This feature is not exactly the most popular feature of Google My Business but imagine two search listings returned in a search. Yours has the messaging feature enabled; the other does not. They could send you a message right away.
These are just a few of Google My Business features that will help you make your business stand out in Google search results. Take some time to investigate them all. You will be surprised how much activity your Google My Business listing gets.